Yumi Kikuchi & Gen Morita

photo by: Susumu Aimatsu
Yumi Kikuchi
International Peace & Environmental Activist and Author
Born and raised in Tokyo. After working as journalist and bond trader, she became full time environmental activist in 1990, her first main focus was saving the tropical rain forests in Central America. At that time she started writing books about the wonderful journey and change in her life from a Tokyo business woman into a natural ecologist. She lives and teaches a simple life.
After the events of Sept 11, 2001 Yumi organized the internet based Global Peace Campaign, which contributed to four full page peace advertisements in major newspapers in the USA, one in Italy and ten in Arabic magazines. Here are six of the advertisements: L.A. Times, N.Y. Times 1, N.Y. Times 2, Washington Post, Italy, Javanah, Persia.
Since then she has been pivotal in the translation of many peace related books and publications from English to Japanese. These include: Addicted To War; Butterfly; What I've Learned About US Foreign Policy; Dennis Kucinich (Democratic candidate for the US 2004 election - published in Japan only - no English version available); and 911, In Plane Site.
She travels extensivily in Japan and United States, giving lectures and interviews. She is a well know writer with innumerable articles appearing in a wide variety of Japanese national & international magazines and newspapers. (Here are three articles in English that will give you some idea of what Yumi has been involved with: International Herald Tribune, Daily Yomiyuri 01 & Daily Yomiyuri 02) She has also appeared on Japanese national TV.
In 2004 she produced the first Tokyo Peace Film Festival which showed six documentary peace related films. Over 1000 participants joined the event and Yumi is currently organizing a similar event for April 2005. She lives in the countryside of Japan with her husband Gen who grows most of what they eat organically. They are also raising 2 small children "organically."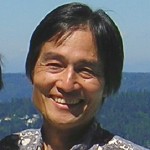 Gen Morita
Natural Healing Practioner, Folk Musician and Organic Farmer
Born and raised in Tokyo. In the 1960's he went to the US as a folk singer and lived there until 1986. When he came back to Japan, he moved to the countryside where he now lives sustainably in a 200 year old traditional Japanese farm house. He is the founder of Harmonics Healing, a simple and powerful self-healing method, which he teaches all over the world, but especially in the 3rd world where there are no hospitals or no doctors.
Gen became internationally known as an anti-golf course development activist after he formed the Global Anti-Golf Movement (GAG'M) with delegates from 10 countries in 1992.
He helped with the translation of Addicted To War, What I've Learned About US Foreign Policy, and 911, In Plane Site. He grows rice and vegetables organically and lives simply with Yumi and their two young children in Kamogawa, a small town about two and a half hours outside of Tokyo.
Together Yumi and Gen founded the Harmonics Life Center, Harmonics Productions and Harmonics Publications in Kamogawa. Through them they aim to spread life based messages concerning health, healing and peace for a sustainable earth.
Gen and Yumi have both traveled extensively in the US. Where ever they travel, they give public talks and concerts and show the controversial film, 911, In Plane Site to the people they meet.
In January they will be visiting Australia for three weeks, then New Zealand for a week. They are looking forward to meeting with and making friends with people in both countries. They hope that they will be invited to peace gatherings and peoples homes to show 911, In Plane Site and also discuss peace and sustainability issues.
They will be visiting Australia from Jan 10th to the 30th and New Zealand from Jan 31st to February 7th.

View of the farmhouse in Kamogawa

Yumi, Mana, Anna & Gen